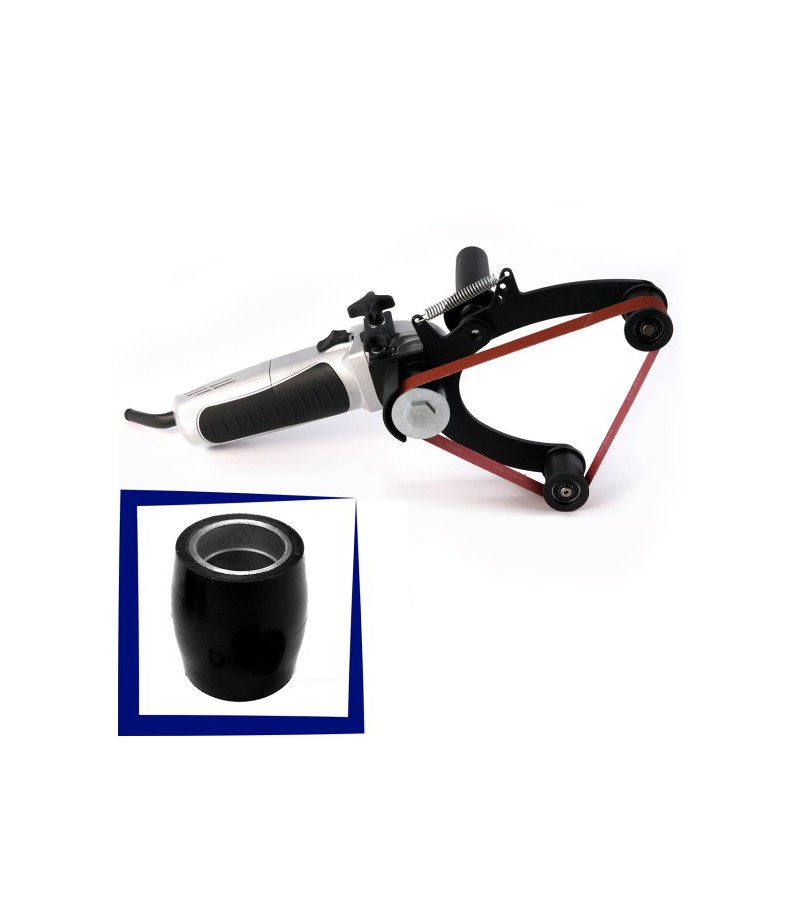  
Adapter for tube forms GLOB SYSTEM GS01-01
GLOB SYSTEM GS01-01 adapter for grinding and polishing of black steel and stainless steel pipes with diameters from 10 - 100mm.
It has barrel swivel rollers that have no rants, what allows to work in hard-to-reach areas. It is suitable for use with a 125mm angle grinder with variable speed control.
For proper operation of the adapter, it is necessary to use endless belts on a flexible backing with a width of 35mm or non-woven belts with a width of 30mm.
The grinding and polishing adapter for oval components (pipes, handrails, etc.) is the perfect tool for demanding users.
Thanks to its standard M14 thread mounting, the adapter can be fitted to any 125mm angle grinder equipped with a variable speed control, without interfering with the grinder's design.
Rollers
All rollers are bearing-mounted. The drive roller has a polyurethane lining for very good grip on the belt. Slip is minimised by the roughness of the lining. The guide rollers are made of black polyamide and have a barrel-shaped design, which ensures a good grip on the endless belt and prevents slippage. The barrel-shaped swivel rollers - which have no rants - enable butt grinding and work in hard-to-reach areas.
Endless belts
Due to the barrel shape of the guide rollers, it is advisable to use belts made on flexible backing as well as on non-woven and polished backing.
Recommended belt widths are 30mm and 35mm.
In the case of belts made on rigid backing, it is recommended to replace the guide rollers with straight edge rollers or use the GS01-00 adapter.
Spare parts
We ensure all usable parts
The project that takes into account the suggestions of users, high quality workmanship and a solid powder-coated steel structure distinguish our product from other solutions.
Detailed operating instructions and instructional videos make assembly of the entire set extremely simple and quick. The large selection of abrasive and polishing materials ensures that the desired surface quality is achieved with a minimum of effort.
THE KIT INCLUDES:
1 x adapter for tube forms GLOB SYSTEM GS01-01,
1 x flexible abrasive belt,
1 x manual in English,
1 x packaging cardboard box for GLOB SYSTEM adapter,
1 x manufacturer warranty (12 months).
Data sheet
MODEL

GS01-01

APPLICATION

125mm angle grinders with variable speed control

MOUNTING

M14 thread

BELTS LENGTH

650 mm

BELTS WIDTH

30 or 35 mm

USE

Grinding and polishing of oval parts

PACKAGE DIMENSION

280 x 180 x 130 mm

PACKAGE WEIGHT

2 kgs