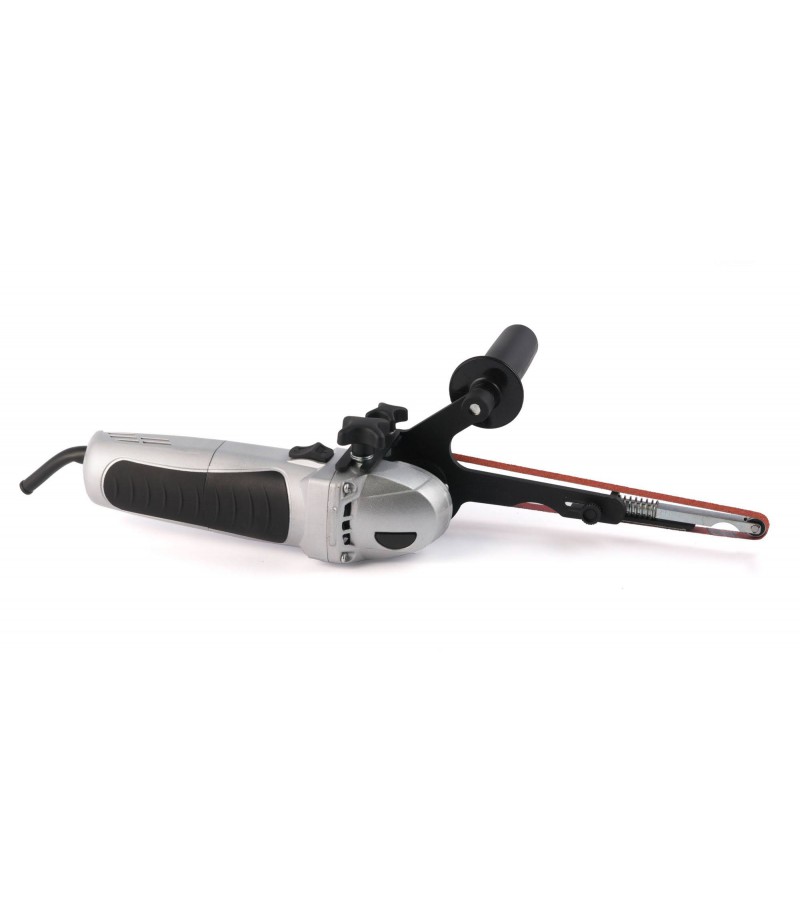  
File adapter GLOB SYSTEM for abrasive belts GS03-00
The adapter in the form of a narrow file is the perfect tool for demanding users.
Thanks to its standard M14 thread mounting, the adapter can be fitted to any 125mm angle grinder equipped with a variable speed control system, without interfering with the grinder's design.
The adapter in the form of a file is designed for precision grinding of all types of weld seams and removal of old paint coatings or rust from hard-to-reach areas such as corners, edges, profile pieces.
The body has been designed to grind flat surfaces - the graphite foot, as well as small oval - round parts in the profile dodger of the adapter.
Highest material removal rate on the smallest surface.
The adapter allows for better guidance and more precise sanding in hard-to-reach areas.
Application:
- removal of weld seam allowances: fillet welds, handrails, trusses,
- shaping wooden parts,
- shaping ceramic tile parts,
- removing old paintwork/rust, cleaning decorative parts with sanding fleece.
Endless belts
Precise belt guiding system with a knob - the belt does not fall off the guide and rollers during operation.
We recommend the use of belts made from rigid backing, as well as on non-woven and polished backing. Belt width is 10mm.
Spare parts
We provide all usable parts.
The project that takes into account the suggestions of users, high quality workmanship and a solid powder-coated steel structure distinguish our product from other solutions.
Detailed operating instructions and instructional videos make assembly of the entire set extremely simple and quick. The large selection of abrasive and polishing materials ensures that the desired surface quality is achieved with a minimum of effort.
THE KIT INCLUDES:
1 x file adapter GLOB SYSTEM GS03-00,
1 x abrasive belt with size 10x550 mm,
1 x manual in English,
1 x packaging cardboard box for GLOB SYSTEM adapter,
1 x manufacturer warranty (12 months).
Data sheet
MODEL

GS03

APPLICATION

125mm angle grinders with variable speed control unit

MOUNTING

M14 thread

BELTS LENGTH

1250 mm

BELTS WIDTH

70mm

USE

Hobbing, grinding 360°, polishing, glazing

PACKAGE DIMENSION

280 x 180 x 130 mm

PACKAGE WEIGHT

1.5 kgs