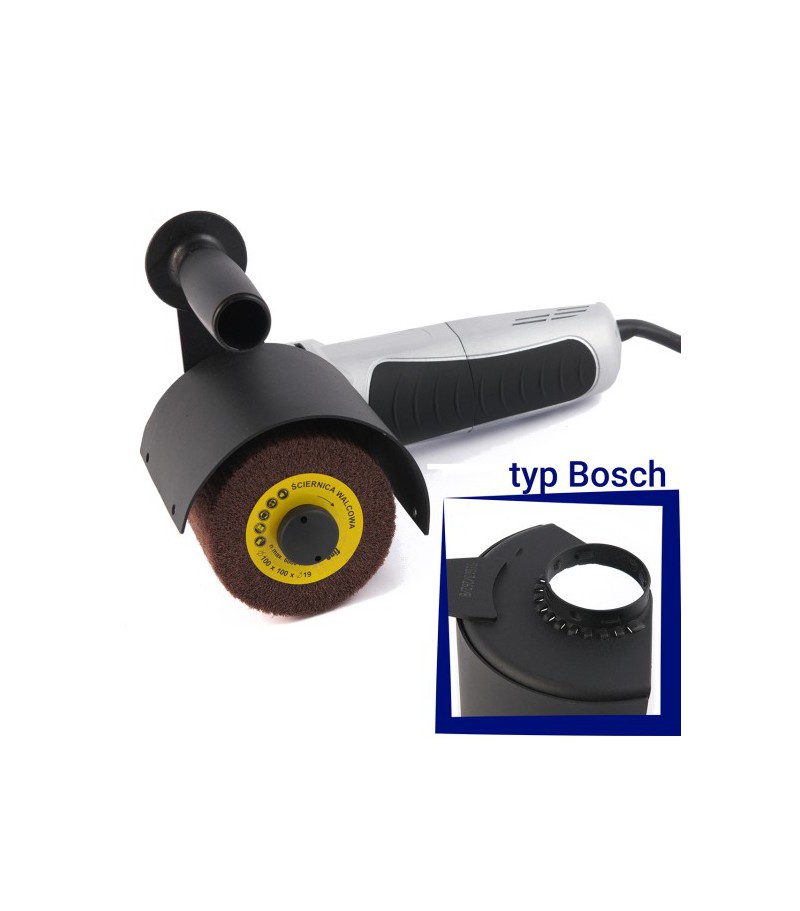  
Adapter for satining and tarnishing flat surfaces GLOB SYSTEM GS04-01
Adapter for satining, grinding, tarnishing and polishing flat surfaces.
Thanks to its standard M14 thread mounting, the adapter can be fitted to any 125mm angle grinder equipped with a variable speed control system.
A suitable surface is achieved using the appropriate grits of abrasive cloth, non-woven and polishing flap wheels. Flap wheels or tires with endless belts can be used. The adapter can also be supplied with a special tyre to which endless belts can be attached for processing steel and stainless steel. 
Producer takes care of environmental protection by using energy produced by 50kW photovoltaic panels, which were installed in one of our production halls.
The adapter can also be used for wood aging operations by using wire brushes made of steel, brass, or abralon provided by the manufacturer. The high-quality construction and detailed user manual make the assembly process simple and quick. The wide selection of abrasive and polishing materials ensures that the desired surface quality can be achieved with minimal effort.
The adapter is compatible with several models of angle grinders listed in the description:
Bosch GWS 12-125 CIE
Bosch GWS 13-125 CIEX
Bosch GWS 14-125 CIE
Bosch GWS 15 -125 Inox
Bosch GWS 15-125 CIE/X/H/P
Bosch GWS 15-125 CIT/H
Bosch GWS 17-125 CIE
THE KIT INCLUDES:
1 x grinding wheel arbor,
1 x specialized grinding wheel cover,
1 x flap wheel  100x100x19mm of non-woven grinding,
1 x flap wheel 100x100x19mm of abrasive cloth,
1 x manual in English,
1 x packaging cardboard box for GLOB SYSTEM adapter,
1 x manufacturer warranty (12 months).
Data sheet
MODEL

GS04-00

APPLICATION

125mm angle grinders with variable speed control unit

MOUNTING

M14 thread

USE

Adapter for satining, grinding,tarnishing and polishing flat surfaces. Suitable surface is obtained using the appropriate granulation abrasive cloth, non-woven abrasive. Cylindrical flap discs can be used as well as special tire with the endless belts

PACKAGE DIMENSION

280 x 180 x 130 mm

PACKAGE WEIGHT

2 kgs

SUITABLE FOR

Bosch GWS 12-125 CIE, Bosch GBosch GWS 15-125 CIE/X/H/PWS 13-125 CIEX, Bosch GWS 14-125 CIE, Bosch GWS 15 -125 Inox, Bosch GWS 15-125 CIT/H , Bosch GWS 17-125 CIE